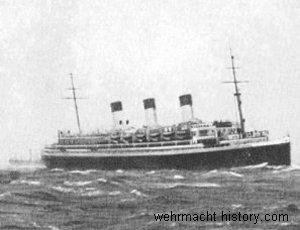 On 1 January 1945, Operation Bodenplatte, The Luftwaffe launches an attack of 700 to 800 aeroplanes against Ninth Air Force and Allied airfields, mainly in Brussels and Eindhoven areas, and to a lesser degree in Metz area. 127 operational Allied aircraft are destroyed. Allied fighters claim 160 air victories while antiaircraft claims 300. 190 A-20 Havoc light bombers, A-26 Invader light bombers, and B-26 Marauder medium bombers hit rail bridges, command centres, road junction, a command post, and Headquarters, all in Belgium and Germany. Fighters escort 9th Bomber Division and Eighth Air Force bombers, fly patrols, sweeps, and armed reconnaissance claiming 39 air victories and numerous ground targets destroyed and support United States III, VII, and XII Corps between Saint-Hubert and the Mosel River.
Adolf Hitler
takes residence in the Führerbunker in Berlin on 16 January 1945.
On 4-11 February 1945, United States of America, United Kingdom, Union of Soviet Socialist Republics conference opens at Yalta. Stalin, Churchill, Roosevelt, their Chiefs of Staff, Molotov, Eden, Stettinius, and Hopkins attend. Discussed are USSR's entry into war against Japan, policy toward Germany, Polish problem, Security Council voting formula, policy toward liberated Europe, and the calling of a United Nations conference.
On 21 February 1945, The last
V-2-rocket
was launched from
Peenemünde
.
On 2 March 1945, The rocket propelled
Bachem Ba 349 Natter
carried out its first test flight at Stetten am kalten Markt. However the launch fails and the pilot, Lothar Sieber, is killed.
Adolf Hitler
on 19 March 1945, orders that all industries, military installations, machine shops, transportation facilities and communications facilities in Germany be destroyed.
Gneisenau
Battleship
Scuttled 27 Mar 1945
On 29 March 1945, The Soviet Army almost destroys the Wehrmacht 4. Armee in the Heiligenbeil Pocket in East Prussia.
Köln
Light cruiser
Sunk 31 March 1945
On 1 April 1945, United States Army Air Force (USAAF) B-24 Liberator heavy bombers attack Giran airfield while B-25 Mitchell medium bombers and P-47 Thunderbolt fighters sweep wide areas. On Luzon B-24 Liberator heavy bombers, A-20 Havoc light bombers, and fighter-bombers hit Legaspi area where United States amphibious landing is taking place, targets North of Balete Pass, Batangas area, and support troops over parts of South and North West Luzon. In Central Phil B-25 Mitchell medium bombers and A-20 Havoc light bombers support ground forces near Cebu City and on Negros. B-24 Liberator heavy bombers hit Oelin airfield.
On 9 April 1945, Abwehr conspirators
Wilhelm Canaris
, Hans Oster and Hans Dohanyi are hanged at Flossenberg concentration camp, along with pastor Dietrich Bonhoeffer.
Admiral Scheer
Sunk 10 April 1945
On 12 April 1945, President of the United States Franklin D. Roosevelt dies suddenly at Warm Springs, Georgia. Vice President Harry S. Truman becomes the 33rd President.
On 16 April 1945, Battle of Berlin begins.
Heinrich Himmler
on 22 April 1945, through Count Bernadotte, puts forth an offer of German surrender to the Western Allies, but not the Soviet Union.
Adolf Hitler
on 22 April 1945, admits defeat in his underground Berlin bunker after learning Felix Steiner could not mobilise enough men to launch a counterattack on the Russians who had just broken through.
Graf Zeppelin
Aircraft carrier
Scuttled 25 April 1945
On 28 April 1945, Benito Mussolini and his mistress, Clara Petacci, are executed by Italian partisans as they attempt to flee the country. Their bodies are then hung by their heels in the public square of Milan.
Adolf Hitler
on 29 April 1945, marries his long time mistress Eva Braun in a closed civil ceremony in the Berlin Führerbunker.
Adolf Hitler
committed suicide by gunshot on 30 April 1945 in his Führerbunker in Berlin. His wife Eva Braun committed suicide with him by ingesting cyanide. That afternoon, in accordance with
Adolf Hitler's
prior instructions, their remains were carried up the stairs through the bunker's emergency exit, doused in petrol and set alight in the Reich Chancellery garden outside the bunker.
On 1 May 1945, Hamburg Radio announces that
Adolf Hitler
has died in battle, fighting up to his last breath against Bolshevism.
Joseph Goebbels
on 1 May 1945, and his wife Magda commit suicide after killing their six children.
Karl Dönitz
on 1 May 1945, appoints Count Lutz Graf Schwerin von Krosigk as the new Chancellor of Germany.
SS General von Steuben
Troop ship
Sunk 3 May 1945
Cap Arcona
Troop ship
Sunk 3 May 1945
Deutschland
Troop ship
Sunk 3 May 1945
Emden
Light cruiser
Scuttled 3 May 1945
Admiral Hipper
Heavy cruiser
Scuttled 3 May 1945
Lützow
Pocket Battleship
Scuttled 4 May 1945
Alfred Jodl
on 7 May 1945, signs the unconditional German Instrument of Surrender at Reims, France, ending Germany's participation in the war. The document takes effect on 8 May 1945.
Karl Dönitz
on 23 May 1945, and Chancellor of Germany Count Lutz Graf Schwerin von Krosigk are arrested by British forces at Flensburg. They are respectively the last German Head of state and Head of government until 1949.
Heinrich Himmler
on 23 May 1945, former head of the Waffen SS, commits suicide whilst being held captive by the British.
On 1 July 1945, Germany is divided between the Allied occupation forces.
16 July 1945, Conference opens at Potsdam to draw up terms for Japanese surrender and to discuss military and political problems connected with the ending of hostilities.
On 26 July 1945, Potsdam ultimatum is issued. Japan is told to surrender unconditionally or face utter destruction.
On 30 July 1945, Japanese reject Potsdam ultimatum. Nevertheless General Marshall directs General MacArthur and Wedemeyer and Admiral Nimitz to proceed with plans for a surrender.
On 6 August 1945, The world's first atomic attack takes place. At 0245 Colonel Paul W Tibbets pilots the B-29 Superfortress heavy bomber Enola Gay off the runway at North Field, Tinian. At 2 minute intervals, 2 observation B-29 Superfortress heavy bomber's follow Major Charles W Sweeney's Great Artiste and Captain George W Marquardt's No 91. At 0915 (0816 Japan time) the atomic bomb is released over Hiroshima from 31,600 ft. It explodes 50 seconds later. More than 80 per cent of the city's buildings are destroyed and over 71,000 people (Japanese figures; United States figures say from 70,000 to 80,000) are killed. The Enola Gay lands on Tinian at 1458, followed within the hr by the 2 observation planes.
On 9 August 1945, Second and last atomic bomb of World War II is dropped on Japan. Major Charles W Sweeney pilots a B-29 Superfortress heavy bomber, Bock's Car, off runway at North Field, Tinian, at 0230. He is followed by 2 observation B-29 Superfortress heavy bomber's the Great Artiste piloted by Captain Frederick C Bock (who has exchanged planes with Sweeney for the mission) and another very heavy bomber piloted by Major James I Hopkins (who loses contact with the other 2 B-29 Superfortress heavy bomber's). The primary target, Kokura, is obscured by bad weather. The attack is made against the secondary target, Nagasaki. The bomb, dropped from 28,900 ft at 1158 (1058 Nagasaki time), explodes about a minute after release. Japanese reports claim nearly 24,000 killed. United States figures estimate about 35,000. The attacking B-29 Superfortress heavy bomber's refuel on Okinawa, and return to Tinian by 2339. During 9-
10
August 1945, 95 B-29 Superfortress heavy bomber's bomb Nippon Oil Refinery at Amagasaki.
On 15 August 1945, Emperor Hirohito of Japan announces the news of his country's unconditional surrender in World War II over a radio broadcast to the Japanese people. After meeting with the Soviet Union in Potsdam, near Berlin, to determine post-war terms for defeated Germany, the governments of the United States and Great Britain (together with China) issued an ultimatum to the Japanese government in late July 1945.
Hostilities with Japan end officially with the signing of the instrument of surrender aboard the USS Missouri in Tokyo Bay on 2 September 1945.
For a complete list of
sources