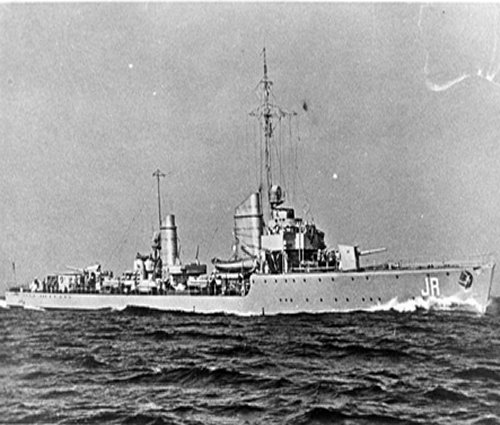 On 4 January 1944, Over 500 United States Army Air Force (USAAF) heavy bombers attack targets in Germany with most of them bombing port area, Kriegsmarine U-boat yards, and industrial area of Kiel. City of Munster 9 also attacked. United States aeroplanes begin flying supplies from United Kingdom to underground resistance forces in West Europe, this operation being coded CARPETBAGGER.
On 29 January 1944, HMS Spartan is sunk by a
Henschel Hs 293
guided missile from a German aircraft off Anzio, western Italy.
On 31 January 1944, As United States Army and Marine troops land on Kwajalein, under overall command of Admiral Spurance, Seventh Air Force hits other atolls in the Marshalls. 19 A-24 Banshee dive bomber bomb Mille airfield, over which P-39 fighters and P-40 fighters maintain all day cover and harassment. 9 P-40 fighters carry out strafing mission against Jaluit. During 31 January 1944 to
1 February 1944
, 8 B-24 Liberator heavy bombers, attacking at intervals, bomb Wotje.
Hansa
Auxiliary cruiser
Commissioned 12 February 1944
On 29 February 1944, Allied amphibious forces land on Los Negros Island, temporarily taking Momote airfield and then falling back to beachhead on Jamandilai Point. Weather prevents full air support but 7 B-24 Liberator heavy bombers and 8 B-25 Mitchell medium bombers manage to attack enemy positions and guns. Other B-24 Liberator heavy bombers and A-20 Havoc light bombers hit Erima, Wewak, Tadji, Awar, and Hollandia.
Ernst-Ludwig Thinemann
Takes command of the Pocket Battleship
Admiral Scheer
on 4 April 1944 to
9 April 1945
On 28 April 1944, 116 United States Army Air Force (USAAF) B-17 Flying Fortress heavy bombers bomb Avord airfield and 14 attack
V-weapons
site at Sottevast. 34 P-38 Lightning fighters attack aircraft repair depot at Tours while 49 P-38 Lightning fighters, followed by 32 P-47 Thunderbolt fighters dive bombers, strike airfield at Chateaudun. Later during the day 47 B-24 Liberator heavy bombers bomb
V-weapon
site at Marquise, Mimoyecques and 11 P-47 Thunderbolt fighters carrying fragmentation bombs attack airfields Northeast of Paris.
Wolf Junge
Takes command of the battleship
Tirpitz
on 1 May 1944 to
4 November 1944
On 9 May 1944, Russian Front. In the Ukrainian city of Sevastopol, Russian ground forces completely drive out the Wehrmacht Armee, who had been ordered by
Adolf Hitler
to fight to the last man.
On 4 June 1944, A United States Navy Task Group 22.3 (TG 22.3) captures the Kriegsmarine U-boat
U-505
, and her code books, Enigma machine assisted Allied code breaking operations.
On 6 June 1944, Operation Overlord was the code name for the Battle of Normandy, the operation that launched the invasion of Wehrmacht occupied western Europe during World War II by Allied forces. The operation commenced on 6 June 1944 with the Normandy landings (Operation Neptune, commonly known as D-Day). A 12,000 plane airborne assault preceded an amphibious assault involving almost 7,000 vessels. Nearly 160,000 troops crossed the English Channel on 6 June 1944 more than three million troops were in France by the end of August.
Falke
Torpedo boat
Sunk 15 June 1944
Jaguar
Torpedo boat
Sunk 15 June 1944
Möwe
Torpedo boat
Sunk 15 June 1944
Adolf Hitler
on 20 July 1944, survives an assassination attempt by Claus von Stauffenberg.
On 26 July 1944, The
Messerschmitt Me 262
becomes the first jet fighter aircraft to have an operational victory during the Second World War.
On 1 August 1944, The Warsaw Uprising begins.
On 23 August 1944, 150 United States Army Air Force (USAAF) fighter-bombers bomb and strafe rail transportation from Saint-Omer to Reims. Over 80 bomb Hamm marshalling yards and 9 others, and strafe miscellaneous ground and river targets.
On 8 September 1944, The first
V-2 rocket
fired in combat explodes in Paris suburb, the second strikes a London suburb a few hours later.
17 September 1944, Operation Market Garden, United Kingdom-Union of Soviet Socialist Republics-Italy-United Kingdom shuttle mission is completed as 72 B-17 Flying Fortress heavy bombers and 59 P-51 Mustang fighter-bombers fly without bombs from Italy to United Kingdom. 2 B-17 Flying Fortress heavy bombers and a P-51 Mustang fighter-bombers abort and a P-51 Mustang fighter-bombers crash-lands South West of Paris. 70 B-17 Flying Fortress heavy bombers and 57 P-51 Mustang fighter-bombers land safely in United Kingdom. Over 800 B-17 Flying Fortress heavy bombers escorted by 3 fighters groups bomb 117 flak batteries and installations and an airfield, all in the Netherlands. 16 fighters groups escort aeroplanes of First Allied Airborne Army making parachute and glider drop of 20,000 troops into the Netherlands to secure axis of advance toward Zuider Zee for British Second Army, as part of MARKET-GARDEN, 17-
30
September 1944. Troops dropped are I Airborne Corps, consisting of British 1st Airborne Division (with Polish Parachute Brigade) and United States 82d and 101st Airborne Division. The fighters groups also bomb and strafe flak positions and other ground targets, encountering intense flak and about 30 fighters. 16 United States fighters are lost. Claims include 8 aeroplanes and 107 flak positions destroyed.
On 9 October 1944, Fourth Moscow Conference, Mr Churchill and Mr Eden, with Harriman, United States presidential representative, as observer, arrive in Moscow. Polish Prime Minister arrives later. Talks with Soviets deal with spheres of influence, the Balkans, and Poland's position.
Erwin Rommel
commits suicide on 14 October 1944, rather than face execution for allegedly conspiring against
Adolf Hitler
.
Robert Weber
Takes command of the battleship
Tirpitz
on 4 November 1944 to
12 November 1944
12 November 1944, 29 Saipan based United States Army Air Force (USAAF) B-24 Liberator heavy bombers with P-38 Lightning fighters escort bomb airfields on Iwo Jima. 11 P-47 Thunderbolt fighters strafe runway and storage area on Pagan. During the night a B-24 Liberator heavy bombers on snooper mission bombs Iwo Jima. B-24 Liberator heavy bombers from Angaur bomb Koror.
Tirpitz
Battleship
Sunk 12 November 1944
Schleswig Holstein
Pre dreadnought
Scuttled 19 December 1944
On 16 December 1944, Bad weather cancels 9th Bomber Division combat operations. Fighters escort The British Royal Air Force (RAF), fly night patrol and intercept missions, and support United States First Army elements in Ardennes as German Field Marshall
Gerd von Rundstedt
begins all out counter offensive, and XII and XX Corps at Saarlautern bridgehead and in Saint-Avold Saarbrucken area where news of Ardennes counteroffensive cancels XII Corps plans for assault on Westwall.
Köln
Light cruiser
Commissioned 12 December 1944
On 31 December 1944, Hungary declares war on Germany.
For a complete list of
sources