The British Admiralty announced safe arrival at Murmansk of important convoy for Russia despite four German attempts to annihilate it. Three U-boats were severely damaged, it not sunk; The enemy lost one, possibly two, destroyers.
Russian Front, 34 inhabited places on the Kalinin, front recaptured by Soviet troops in two days fighting. On Donetz front, Kharkov reported encircled by Russian troops. Moscow communicate announced sinking of a U-boat and an enemy transport in Barents Sea.
Far East, Heavy fighting at Shwedaung, 10 miles south of Prome, in Burma. Battle for Toungoo, on the Mandalay road, still raging. In Australia, Japanese planes raided Darwin, Royal Australian Air Force (RAAF) bombers blasted airfield at Koepang, Dutch Timor.
Australian Army reorganised in two commands.
Army Air Forces General Spaatz suggests that the now task less Eighth be made nucleus for Army Air Force in Britian (AAFIB).
Friedrich Hüffmeier
Takes command of the Battleship
Scharnhorst
on 31 March 1942 to
13 October 1943
Go To:
1st April
Articles: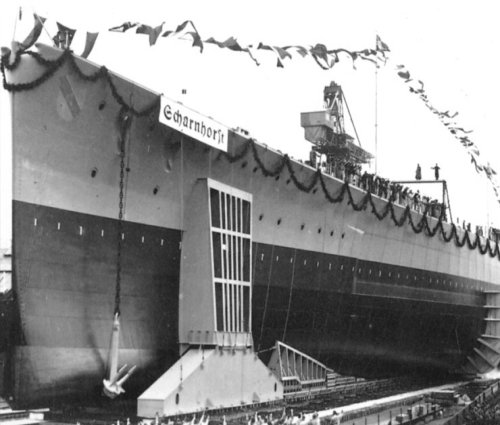 The Second Great War.
Edited by Sir John Hamilton
The War Illustrated.
Edited by Sir John Hamilton
2194 Days Of War.
ISBN-10: 086136614X
For a complete list of
sources