The British Royal Air Force (RAF) bombers carried out an extensive raid on Turin and surrounding areas.
North Africa. Allied forces repulsed counter-attacks at Tebourba by Field Marshal
Erwin Rommel's
Afrika Corps. Bizerta and Tunis bombed by Allied aircraft, Bone twice raided by Axis aircraft.
In Libya. Tripoli raided by Allied heavy bombers.
In the Mediterranean. It was announced that British submarines had sunk nine enemy supply ships bound for Tunisia.
Russian Front. New Soviet offensive launched on Central front, East of Velikiye Luki and West of Rzhev.
Fighting French forces landed on Réunion Island in the Indian Ocean.
Twelfth Air Force. 35 United States Army Air Force (USAAF) B-17 Flying Fortress heavy bombers of the 97th Group and newly-arrived 301st Group bomb Bizerte airfield and dock area. Because of mud, no P-38 Lightning fighters escort is provided. 2 heavy bombers are lost to fighters attacks. B-26 Marauder medium bombers of newly-arrived 319th Group bomb oil tanks, warehouses, and rail yards at Sfax, marking debut of Twelfth Air Force in North West Africa.
Fifth Air Force. United States Army Air Force (USAAF) B-26 Marauder medium bombers bomb airfields at Lae and Buna. Elements of 126th Infantry, United States 32d Division arrive on Sanananda front from Wairopi.
Eleventh Air Force.
A United States Army Air Force (USAAF) B-24 Liberator heavy bombers photographs beached freighter at Holtz Bay drawing no antiaircraft fire during 10 runs over Bay, and flies reconnaissance over Kiska.
Ernst Gruber
Takes command of the Pocket Battleship
Admiral Scheer
on 28 November 1942 to
1 February 1943
M324
Minesweeper
Commissioned 28 November 1942
Go To:
29th November
Articles: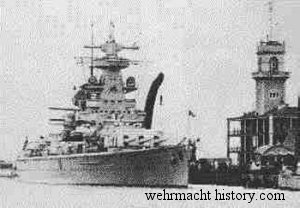 The Second Great War.
Edited by Sir John Hamilton
The War Illustrated.
Edited by Sir John Hamilton
2194 Days Of War.
ISBN-10: 086136614X
For a complete list of
sources