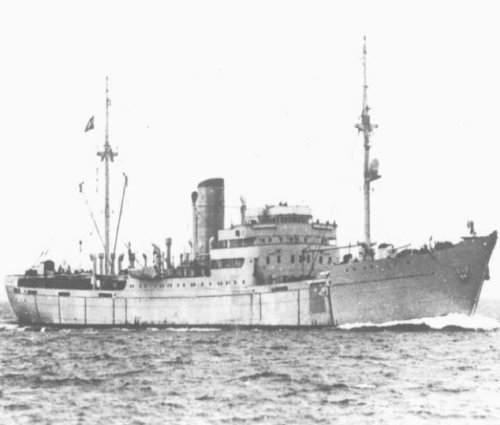 On 1 January 1942, Far East, Big battle raging north of Manila. Officially announced that British forces had withdrawn from Sarawak. Sharp fighting at Kuantan in Malaya. Japanese occupied aerodromes at Gong Kedah raided at night by he British Royal Air Force (RAF) Communiqué from Burma reported small Japanese infiltration into Bokpyn in the Mergui district, but enemy withdrew when British columns arrived.
On 21 and January 1942, Far East, Heavy air raid on Singapore in which 13 enemy aircraft were destroyed. Heavy fighting continued between Muar and Batu Pahat. In Philippines, General MacArthur's troops made a successful counter-attack. One of his guerilla bands gained a local success in a surprise raid against an enemy aerodrome at Tuguegarao. More large-scale air attacks on New Guinea.
Z8 Bruno Heinemann
Destroyer
Sunk 25 January 1942
On 3 February 1942, In Africa, Field Marshal
Erwin Rommel's
advance slowed down. British mobile columns continued to harass the enemy.
On 11 February 1942, Operation Cerberus, The Channel Dash, was a major naval operation during the Second World War in which a Kriegsmarine Flotilla comprising of the battleships
Scharnhorst
and
Gneisenau
, and heavy cruiser
Prinz Eugen
along with escorts, ran a British blockade and successfully sailed from Brest in Brittany to their home bases in Germany via the English Channel.
28 March 1942, Operation Chariot, St Nazaire Raid, Attack by British Navy, Army and Air units on the Kriegsmarine naval base at St. Nazaire. Main dock gate blown up by ramming it with an ex-American destroyer HMS Carnpbeltown filled with tons of high explosive. Special Service troops carried out prearranged demolitions in the dockyards..
Friedrich Hüffmeier
Takes command of the Battleship
Scharnhorst
on 31 March 1942 to
13 October 1943
On 3 April 1942, The British Admiralty announced loss of destroyer HMS Heythrop on
20 March 1942
by the
U-652
after firing for torpedoes of which only hit HMS Heythrop, and was then taken in tow by the British destroyer HMS Eridge towards Tobruk, but foundered five hours later.
Z31
Destroyer
Commissioned 11 April 1942
Rudolf Peters
Takes command of the Battleship
Gneisenau
on 11 April 1942 to
1 July 1942
On 18 April 1942, Doolittle Raid, First American air raid on Japan. Sixteen B-25 bombers of XVII Bomber Group of the 8th United States Air Force, commanded by Lieutenant Colonel J. H. Doolittle, take off from the aircraft carrier Hornet about 750 miles from Tokyo. The Hornet and her escort, the cruisers Vincennes and Nashville with their complement of destroyers, left on the
14 April 1942
from a rendezvous north of Midway Island. Another carrier, the Enterprise, joins them near Japan to provide fighter escort. The B-25s arrive over their targets at 12:15 p.m., dropping bombs on Tokyo, Kobe, Yokohama, Nagoya and Yokosuka. They then fly on towards China, but owing to bad weather they either crash on landing or their crews make parachute jumps. One aircraft lands near Vladivostok and its crew is interned by the Russians. Two planes end up in Japanese occupied territory where their crews are made prisoner some being shot on
15 October 1942
. The aircraft carriers and other ships taking part return unharmed. Although material results of the raid are trivial the psychological effect is profound. The heart of the Empire of the Rising Sun is not, as the Japanese have believed, invulnerable.
Z7 Hermann Schoemann
Destroyer
Sunk 2 May 1942
On 12 May 1942, Remember of these names! The list drawn up by Bucheu then Vichy Minister for the Interior, today Vichy Ambassador in Berne of the men shot by the Germans at Nantes included four trade union officials, Granet of the Paper Workers Union, Michels of the Leather Workers, Poulmarch of the Seamens Union, and Timbaud of the Metal Workers. According to Facts and Figures about the Dictatorships, on the eve of` the execution Raymond Froideval, prominent defeatist and renegade trade union leader, visited those sentenced to death. He offered to guarantee their lives if they were willing to betray their colleagues and to collaborate. With the enemy. The four men scornfully rejected the offer and the next day went to their death. (I.T.F.)
Seeadler
Torpedo boat
Sunk 13 May 1942
On 26 May 1942, General Arnold, Admiral Towers, and Air Chief Marshal Portal attend Anglo-American air conference in London. Topics of discussion include allocation of aircraft and establishment of United States air forces in United Kingdom. Meeting begins at 10 Downing Street with Mr. Churchill.
Reinhard Heydrich
on 4 June 1942 died from wounds received on
27 May 1942
.
On 29 June 1942, Russian Front. The Wehrmacht carried out heavy panzer attacks, repelled at Kursk. The Wehrmacht 11. Armee under
Erich von Manstein
takes Sevastopol, although fighting rages until 9 July 1942.
On 18 July 1942, The Luftwaffe prototype
Messerschmitt Me 262 V3
is test flown for the first time by test pilot Fritz Wendel.
On 7 August 1942, South Pacific (SOPAC). First Marine Division invades Guadalcanal. Eleventh Air Force. 3 United States Army Air Force (USAAF) B-24 Liberator heavy bombers dispatched to bomb Kiska return with their bombs due to solid overcast. 4 more B-24 Liberator heavy bombers also depart for Kiska. 1 turns back with mechanical trouble, the others abort mission over target due to undercast. 1 B-24 Liberator heavy bombers, 4 P-38 Lightning fighters and an LB-30 bomber fly 2 air coverage missions at Nazan Bay for Navy tenders.
On 27 September 1942, Eleventh Air Force. Shore and harbour areas of Kiska are bombed 8 B-24 Liberator heavy bombers and 1 B-17 Flying Fortress heavy bombers, escorted by 1 P-38 Lightning fighters, 13 P-39 fighters and 4 P-40 fighters take off first, and are followed by 6 unescorted B-24 Liberator heavy bombers. Weather turns back 13 of the fighters. An LB-30 bomber flies photo weather reconnaissance over Attu, Buldir, the Semichis, Agattu, and Amchitka.
Stier HSK 6
Auxiliary cruiser
Sunk 27 September 1942
On 3 October 1942, The first
Aggregate 4
(A-4)
V-2 Rocket
is successfully launched from the
Peenemünde
Test Stand VII in Germany. The rocket flies 147 kilometres wide and reaches a height of 84.5 kilometres, becoming the first man made object to reach space.
Komet HSK 7
Auxiliary cruiser
Sunk 14 October 1942
On 30 October 1942, 3 British Royal Navy sailors from HMS Petard board Kriegsmarine U-boat
U-559
as it sinks in the Mediterranean and manage to retrieve its Enigma machine and code books before it sinks taking lives of two of the three sailors who boarded from HMS Petard
On 19 November 1942, Russian Front. Operation Uranus, Battle of Stalingrad, Russian forces under General Georgy Zhukov launch the Operation Uranus counter-attacks at Stalingrad, turning the tide of the battle in the Soviet Union favour.
On 20 to November 1942, Russian Front. Battle of Stalingrad, The situation for the Wehrmacht attackers of Stalingrad seems desperate during the Russian counter-attack Operation Uranus, and General
Friedrich Paulus
sends
Adolf Hitler
a telegram saying that the German 6. Armee is surrounded. Soviet troops had advanced 40 to 50 miles and taken 13,000 Wehrmacht prisoners.
Ernst Gruber
Takes command of the Pocket Battleship
Admiral Scheer
on 28 November 1942 to
1 February 1943
Thor HSK 4
Auxiliary cruiser
Destroyed 30 November 1942
For a complete list of
sources