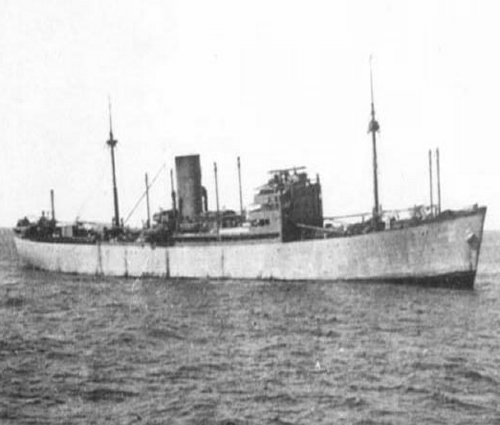 On 14 January 1941, Kriegsmarine auxiliary cruiser
Pinguin
captures the Norwegian whaling fleet near Bouvet Island, effectively ending Southern Ocean whaling for the duration of the war. Ole Wegger (12,201 t), Solglimt (12,246 t), Torlyn (247 t), Pol VIII (298 t), Pol IX (354 t), Pol X (354 t), factory ship Pelagos (12,083 t), Star XIV (247 t), Star XIX (249 t), Star XX (249 t), Star XXI (298 t), Star XXII (303 t),
Star XXIII (357 t) and Star XXIV (361 t).
Z34
Destroyer
Laid down 14 January 1941
On 27 January 1941, Attack on Pearl Harbour, Joseph Grew, the United States ambassador to Japan, reports to Washington regarding a rumour overheard at a diplomatic reception concerning a planned surprise attack on Pearl Harbour, Hawaii.
On 19-22 February 1941, Three Nights Blitz over Swansea, South Wales, Over these 3 nights of intensive bombing, which last a total of 13 hours and 48 minutes, Swansea's town centre is almost completely obliterated by the high explosive bombs used by the Luftwaffe. A total of 397 casualties and 230 deaths are reported.
Tirpitz
Battleship
Commissioned 25 February 1941
Friedrich Karl Topp
Takes command of the Battleship
Tirpitz
on 25 February 1941 to
24 February 1943
On 24 March 1941, Cairo reported that after beating off seven counter-attacks British troops at Karen were advancing, Nairobi stated that our advanced troops successfully attacked strong enemy positions holding Marda Passywest of jijiga. Enemy force occupied E1 Agheila, Libya, from which British had been withdrawn. During night the British Royal Air Force (RAF) raided Tripoli.
On 6 April 1941, In the Balkans, Germany invaded Greece and Yugoslavia.
On 9 May 1941, The Kriegsmarine U-boat
U-110
is captured by the British Royal Navy. Probably one of the most important events of the battle against the U-boats. A boarding party from HMS Bulldog went aboard the Kriegsmarine U-boat
U-110
and recovered an Enigma machine with rotors set, and current code books.
In the North Atlantic, At 6 am, on 24 May 1941, the British battleship HMS Prince of Wales and the battlecruiser HMS Hood open fire on the Kriegsmarine battleship
Bismarck
and
Prinz Eugen
. After exchanging fire, the HMS Hood magazines explodes and splits the ship in two killing all but 3 crewmen from a total of 1,418 aboard. HMS Prince of Wales is hit several times, The
Bismarck
and
Prinz Eugen
head for Brest, France.
Adolf Hitler
On 26 May 1941 orders the development
Tiger Ausf. E
Bismarck
Battleship
Scuttled on 27 May 1941
Wilhelm Meendsen-Bohlken
Takes command of the Pocket Battleship
Admiral Scheer
on 12 June 1941 to
28 November 1942
T23
Torpedo boat
Launched 14 June 1941
On 22 June 1941, The Wehrmacht invades the Soviet Union, under the codename of Operation Barbarossa, The Wehrmacht had amassed 3,206,000 soldiers and over 3,330 assorted panzers. Over 7,100 artillery pieces 600,000 motor vehicles 625,000 horses 250 assault guns, the Luftwaffe had amassed 2,840 aircraft.
On 29 June 1941, Russian Front, New Wehrmacht push towards Murmansk by troops from Norway. The Wehrmacht also attacked from Karelian Isthmus. The Wehrmacht claimed to have crossed River Dvina and to have captured Dvinsk, Russians stated that advance of enemy tank columns in direction of Minsk and Luck had been stopped. Fierce righting in progress. The Wehrmacht claimed that armoured units had bypassed Minsk and pushed beyond.
On 5 July 1941, Russian Front, Fighting reported that Murmansk, Kandalaksha and on Karelian Isthmus. Berlin claimed advance despite stubborn resistance. Soviet forces repulsed repeated attempts to cross rivers Beresina and Drut. The Wehrmacht claimed that forces east of Minsk had reached river Dnieper. In Ukraine Russians admitted that enemy tank thrust was developing in direction of` Novgorod-Volinsk. In Bessarabia the Wehrmacht crossed the river Pruth at several points, but further advance was held. Hungarians claimed capture of Stanislawowp, and Kolomea.
On 7 July 1941, Russian Front, Moscow stated that the Wehrmacht attacks in Baltic States were repulsed, and also his attempts to cross the Western Dvina. The Wehrmacht claimed progress towards Upper Dvina and Dnieper. In Northern Ukraine Russians claimed to have checked the Wehrmacht advance in Novgorod-Volynsk sector.
On 22 August 1941, In France, The German Occupation Authority announces that anyone working for or aiding the Free French resistance will be sentenced to death.
On 8 September 1941, Russian Front, The Siege of Leningrad begins, The Wehrmacht ground forces begin a siege against the Soviet Union's second largest city, Leningrad.
Z33
Destroyer
Launched 15 September 1941
Kormoran HSK 8
Auxiliary cruiser
Sunk 20 November 1941
Atlantis HSK 2
Auxiliary cruiser
Sunk 22 November 1941
On 26 November 1941, A fleet of 6 Japanese aircraft carriers commanded by Japanese Vice Admiral Chuichi Nagumo leaves Hitokapu Bay for Pearl Harbour under strict radio silence.
On 27 November 1941, Russian Front, The Wehrmacht claimed capture of Klin, North West of Moscow the closest the Wehrmacht ground forces will ever come to capturing Moscow.
On 7 December 1941, First wave of Japanese carrier based aeroplanes (almost 200) hits United States naval base at Pearl Harbour and Hickam Field at 0755. Attacks follow quickly against Wheeler and Bellows Fields. A second wave of Japanese aeroplanes strikes other naval and military facilities. Hawaiian Air Force loses 163 men, with about 390 others wounded or missing; has 64 of its 231 assigned aircraft destroyed. Only 79 of the remaining aircraft are deemed usable, and much of the airfields ground facilities are destroyed. These losses are light in comparison with the Navy's, more than 2,000 killed or missing, and more than 900 wounded, 4 battleships sunk; 3 battleships, 3 cruisers, and 3 destroyers damaged; and over half of the Navy's 169 aeroplanes in the area destroyed. The Japanese lose 20 aircraft over Hawaii, including 4 claimed destroyed by 2d Lieutenant George S Welch (47th Pursuit Squadron) piloting a P-40,one of the few United States fighters to successfully attack aeroplanes during the day. About 20 other aircraft are lost by the Japanese during carrier landings. Altogether the Japanese pay a small price for the damage done to the Americans on Oahu. For the remainder of the day, following the attacks, Army Air Forces carries out fruitless searches for the carriers.
On 8 December 1941, Russian Front, The Wehrmacht advance on Moscow (Operation Typhoon) is suspended for the winter.
Adolf Hitler
becomes Supreme Commander-in-Chief of the Wehrmacht Armed Forces on 19 December 1941.
For a complete list of
sources