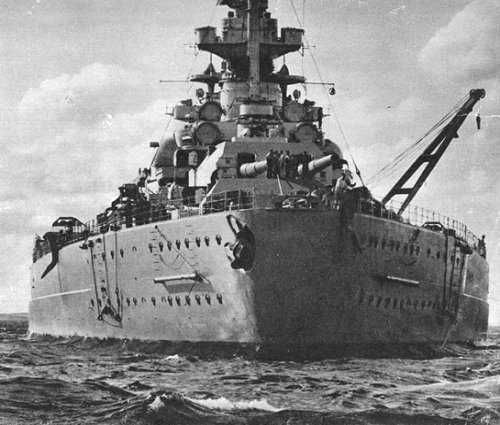 The Mechelen Incident of 10 January 1940, a Luftwaffe plane carrying Helmuth Reinberger and Erich Hoenmanns who was the pilot crash landed in Belgium, due to bad weather, carrying secret papers for the operation Fall Gelb, The authorities in Brussels fully understand.
Adolf Hitler's
intention to attack their country as well as the Netherlands.
On 10 February 1940, Russians continued their attacks here, first bombing Finnish troops by aeroplane, accompanied by heavy artillery fire, then pushing forward succeeding waves of men, all along the line Finns claimed that all attacks were repulsed.
T17
Torpedo boat
Launched 13 March 1940
Thor HSK 4
Auxiliary cruiser
Commissioned 15 March 1940
On 18 March 1940, Accompanied by
Joachim von Ribbentrop
and Count Ciano
Adolf Hitler
and Mussolini conferred together in a bullet-proof railway train in frontier station on the Brenner pass. The conference lasted 2 1/2 hours, after which the dictator's return to their own capital's.
On 9 April 1940, Operation Weserübung was the code name for Germany's assault on Denmark and Norway, Germany invaded Norway and Denmark under the pretext of taking over their protection. Attack on Norway began about midnight on Monday, landings being made at various points on the coast. There was resistance and sharp fighting took place in the air and along the coast. Oslo occupied in afternoon. Narvik, Bergen, Trondheim and other ports also reported to be in German hands.
Z21 Wilhelm Heidkamp
Destroyer
Sunk 10 April 1940
Königsberg
Light cruiser
Sunk 10 April 1940
5:35 a.m. on 10 May 1940 German airborne troops land on the bridges at Rotterdam, Dordrecht and Moerdijk in Holland and more parachutists dropped on the fortress of Eben Emael, the key to the defence of Liege in Belgium, and the German armies of Heeresgruppe B (Army Group B) were commanded by
Fedor von Bock
, and Heeresgruppe A (Army Group A) Commanded by
Rudolf von Rundstedt
. Cross the frontiers of Belgium, Holland and Luxembourg.
The Second Armistice at Compiègne was signed at 6 50 PM on 22 June 1940 near Compiègne.
Adolf Hitler
deliberately chose Compiègne Forest as the site to sign the armistice due to its symbolic role as the site of the 1918 Armistice with Germany that signalled the end of World War I with a German defeat.
On 19 July 1940, Italy's fastest cruiser, Barte olomeo Colleoni, was sunk, and another put to flight off Crete, by Australian cruiser HMAS Sydney and small destroyer force. The British Admiralty announced that two British merchant ships, King John and Davisian had been sunk in region of West Indies by enemy raider, believed to be converted merchant vessel.
T19
Torpedo boat
Launched 20 July 1940
Luchs
Torpedo boat
Sunk 26 July 1940
Prinz Eugen
Heavy cruiser
Commissioned 1 August 1940
HMS Transylvania was a British liner, and in September 1939, the liner was converted into an armed merchant cruiser, pennant F56. And on 10 August 1940, off Malin Head, Ireland she was torpedoed by the
U-56
. HMS Transylvania was being towed afterward but sank before reaching land. 36 lives were lost.
Otto Fein
Takes command of the Battleship
Gneisenau
on 20 August 1940 to
11 April 1942
Bismarck
Battleship
Commissioned 24 August 1940
Ernst Lindemann
Takes command of the Battleship
Bismark
on 24 August 1940
On 2 September 1940, Repeated attempts by big Luftwaffe formations to bomb Kent and Thames estuary aerodromes, and to reach London, were beaten off by fighters and antiaircraft gunners. Series of dramatic air battles took place one being over a Southeast coast town.
On 18-19 October 1940, Many ships are sunk from the Convoy SC 7 and Convoy HX 79 by the most effective wolfpack of the war including On the night of 18-19 October 1940, five boats made a concentrated attack. The U-boats involved were
U-46
,
U-99
,
U-100
,
U-101
and
U-123
.
U-99
was commanded by the famous ace Korvettenkapitän
Otto Kretschmer
. The attack was coordinated from Lorient by Admiral
Karl Dönitz
and his staff. SS Creekirk, SS Empire Brigade, SS Fiscus, SS Assyrian.
On 14 November 1940, The city of Coventry, England is destroyed by 500 Luftwaffe bombers, 568 people are killed, during the Coventry Blitz.
On 29 December 1940, Slight Luftwaffe activity over Britain by daylight. Second Great Fire of London, At night waves of aircraft made determined attempt on London, showering incendiary bombs over both City and outskirts. Many buildings destroyed by fire, including the Guildhall, nine City churches, Trinity House, several halls of City Companies, a museum, two hospitals, several schools and innumerable commercial buildings and houses.
For a complete list of
sources