Hans Langsdorff
Takes command of the Pocket Battleship
Admiral Graf Spee
on 1 November 1938 to
17 December 1939
On 2 November 1938, Arising from The Munich Agreement Hungary is awarded the Felvidek region of South Slovakia and Ruthenia.
T9
Torpedo boat
Launched 3 November 1938
On 4 November 1938, At a public meeting in Epping, Winston Churchill narrowly survives an attempt by fellow Conservative and constituent Sir Colin Thornton-Kemsley to remove him from Parliament.
On 7 November 1938, Ernst von Rath, the Third Secretary at the German Embassy in Paris, is assassinated by Herschel Grynszpan.
On 9 November 1938, In Germany, the night of Kristallnacht (Night of Broken Glass) begins as National Socialists activists and sympathisers loot and burn Jewish businesses the all night affair sees 7,500 Jewish businesses destroyed, 267 synagogues burned, 91 Jews killed, and at least 25,000 Jewish men arrested.
Erwin Rommel
Erwin Rommel became the commanding officer of the military academy at Wiener Neustadt in southern Germany on November 1938.
M4
Minesweeper
Commissioned 10 November 1938
Z23
Destroyer
Laid down 15 November 1938
On 16 November 1938, Britain formally recognised Italy's control of Ethiopia. In return Benito Mussolini agreed to withdraw 10,000 troops from Spain.
On 16 November 1938, End of the Battle of the Ebro.
T16
Torpedo boat
Launched 23 November 1938
Adolf Hitler
on 24 November 1938, ordered the Wehrmacht General Staff to prepare plans for the invasion of the Free City of Danzig, but careful to include that it was not to include war with Poland.
On 30 November 1938 Benito Mussolini and his Foreign Minister Count Galeazzo Ciano order spontaneous demonstrations in the Italian Chamber of Deputies, demanding that France cede Tunisia, Nice, Corsica and French Somaliland to Italy. This begins an acute crisis in Franco-Italian relations that lasts until
March 1939
.
Go To:
December
Articles: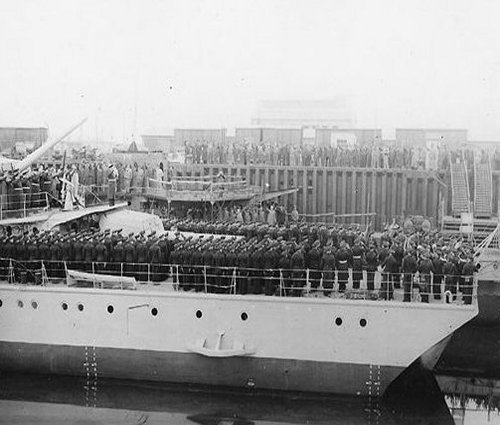 The Second Great War.
Edited by Sir John Hamilton
The War Illustrated.
Edited by Sir John Hamilton
2194 Days Of War.
ISBN-10: 086136614X
For a complete list of
sources