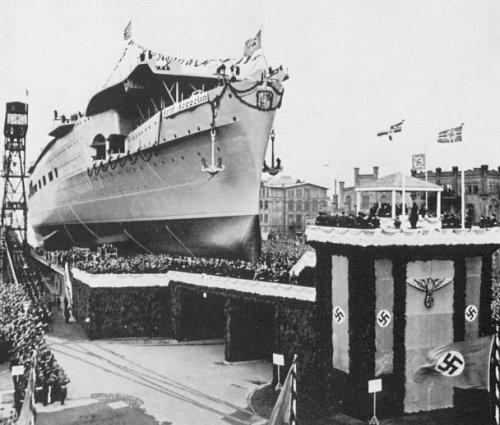 During January 1936, the German Chancellor and Führer
Adolf Hitler
resolved to reoccupy the Rhineland. In the first place
Adolf Hitler
had planned to remilitarise the Rhineland in 1937, but chose in early 1936 to move remilitarisation forward by a year for several reasons, that is to say the ratification by the French National Assembly of the Franco Soviet pact of 1935 allowed him to present his coup both at home and abroad as a defensive move against Franco Soviet encirclement.
Admiral Graf Spee
Commissioned 6 January 1936
Conrad Patzig
Takes command of the Pocket Battleship
Admiral Graf Spee
on 6 January 1936 to
2 October 1937
Adolf Hitler
met with
Konstantin von Neurath
and his Ambassador
Joachim von Ribbentrop
on 12 February 1936 to ask their opinion of the likely foreign response to remilitarisation
Konstantin von Neurath
endorsed remilitarisation, but contended that Germany should negotiate more before doing so while
Joachim von Ribbentrop
argued for unilateral remilitarisation at once.
Joachim von Ribbentrop
told
Adolf Hitler
that if France went to war in reaction to German remilitarisation, then United Kingdom would take arms with France, an assessment of the situation that
Konstantin von Neurath
did not agree with, but one that encouraged
Adolf Hitler
to go ahead with remilitarisation.
29 March 1936, The Reichstag elections recorded a record turnout of 98.8%, although the rules had been changed in respect of spoilt papers-in that all ballot papers left blank were counted as a vote for the National Socialists candidate, and only where the voter had specifically written No against a candidate's name were they counted as a vote against.
On 3 April 1936, Richard Hauptmann, convicted of the Lindbergh for the kidnapping, and killing of the infant Charles Lindbergh III in 1932, is executed by electrocution in New Jersey.
Prinz Eugen
Heavy cruiser
Laid down 23 April 1936
On 12 May 1936, The first prototype of the
Messerschmitt Bf 110
made its maiden flight from Augsburg-Haunstetten, Germany, with test pilot Rudolf Opitz at the controls.
Ernst Udet
was appointed Director of the Technical Department of the Reichsluftfahrtministerium (RLM) on 9 June 1936, with responsibility for all new Luftwaffe aircraft.
Ernst Udet
department grew to a complex 26 departments and was split with inter-department rivalries.
Ernst Udet
failed to provide a firm leadership and his establishment soon broke down into chaos, although
Ernst Udet
, with no effective deputy and a poor staff seemed more happier when he was inaccessible visiting aircraft factories and airfields.
Tirpitz
Battleship
Ordered 14 June 1936
Bismarck
Battleship
Laid down 1 July 1936
On 11 July 1936, Germany and Austria signed an agreement in which Germany promised to respect Austria's sovereignty and Austria agrees to be considered a state of the German people. In a secret clause of this agreement, Austria was to permit the National Socialist Party.
For two weeks in 1-16 August 1936,
Adolf Hitler's
national socialist dictatorship camouflaged its anti-Semitic, militaristic character while hosting the Summer Olympics. Minimising its anti-Semitic schedule and plans for territorial enlargement, the regime exploited the Games to impress many foreign spectators and journalists with an image of a peaceful, tolerant Germany. Having declined a proposed boycott of the 1936 Olympics, the United States government and other western democracies missed the chance to take a stand that modern-day commentators claimed might have restrained
Adolf Hitler
and bolstered international opposition to national socialist tyranny. After the Olympics, Germany's expansionism and the persecution of the Israelites and other enemies of the state speeded up, climaxing in Second World War and the final solution.
Z17 Diether von Roeder
Laid down 9 September 1936
On 10 September 1936,
Dornier Do 18
flying boat Zephir piloted by Lufthansa Flugkapitän Blankenburg was launched from the Kriegsmarine seaplane tender Schwabenland by catapult in the Azores.
Dornier Do 18
flying boat Aeolus was launched just after.
Otto Ciliax
Takes command of the Pocket Battleship
Admiral Scheer
on 22 September 1936 to
31 October 1938
Scharnhorst
Battleship
Launched 3 October 1936
Oswald Mosley married his mistress Diana Guinness. They married in secret in Germany on 6 October 1936 in the Berlin home of Minister of Public Enlightenment and Propaganda
Joseph Goebbels
.
Adolf Hitler
was one of the guests.
Adolf Hitler
on 5 November 1936 told his top lieutenants that the German aim in the Spanish Civil War was not entirely to aid the Spanish Nationalists, but rather, to prolong the conflict to occupy the attention of the United Kingdom and France, and to continue to widen the chasm between the United Kingdom and Italy.
Gneisenau
Battleship
Launched 8 December 1936
On 12 December 1936, After the failure of Franco's offensive on Madrid, Benito Mussolini decided to send regular army forces to Spain. Benito Mussolini made this decision after consulting with Italian Minister of Foreign Affairs Galeazzo Ciano and General Mario Roatta. Galeazzo Ciano and Mario Roatta were two of the most important men in Italy at the time. Mario Roatta was made the Commander-in-Chief of the Italian expeditionary force. General Luigi Frusci became his Deputy Commander.
Graf Zeppelin
Aircraft Carrier
Laid down 28 December 1936
For a complete list of
sources