On 2 May 1945, With the announcement that Germany was rearming, and the failure of a French plan to create an alliance of Germany, Poland and the Union of Soviet Socialist Republics, France concluded a separate alliance with the Union of Soviet Socialist Republics.
Z12 Erich Giese
Destroyer
Laid down 3 May 1935
Gneisenau
Battleship
Laid down 6 May 1935
On 11 May 1935, Ethiopia again protested the ongoing Italian mobilisation.
On 20-21 May 1935, the League of Nations held a special session to discuss the crisis in Ethiopia.
Adolf Hitler
on 21 May 1935 in a speech to the Reichstag said. The German government has broken away from the discriminatory articles of the treaty but it herewith solemnly declares that these measures relate exclusively to the points which involve moral and material discrimination against her people. It will therefore respect, unconditionally the articles concerning the mutual relations of nations in other respects, including the territorial provisions, and will bring about the revisions inevitable in the course of time. Only by the method of peaceful understandings.
German military required Aryan heritage for service from 21 May 1935.
Werner Mölders received the Pilot's Badge of the Luftwaffe on 21 May 1935.
On May 25, A League council resolved to meet if no fifth arbitrator had been selected by
25 June 1935
, or if a settlement was not reached by
25 August 1935
.
F7
Escort
Launched 25 May 1935
Eva Braun
Adolf Hitler's
mistress attempted suicide on 28 May 1935 by taking Phanodorm, which was a drug usually prescribed to help with sleeping.
The first flight of
Willy Messerschmitt's
,
Messerschmitt Bf 109
fighter aircraft happened on 28 May 1935. Powered by a 695 HP Rolls Royce Kestrel engine, the
Messerschmitt Bf 109
fighter aircraft was the first all metal stressed skin monocoque single seat fighter monoplane with an enclosed cockpit and retractable undercarriage to enter service. The
Messerschmitt Bf 109
fighter aircraft proved so successful that over 30,000 would finally be assembled before the end of the Second World War.
Go To:
June
Articles: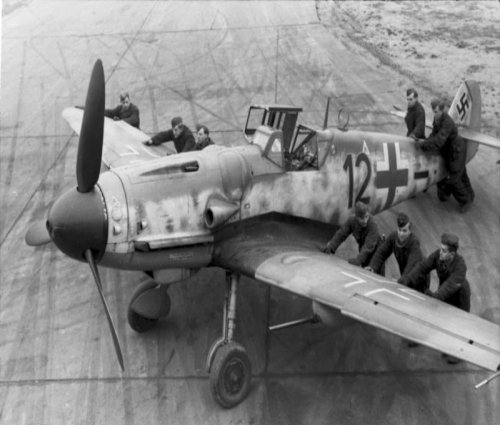 The Second Great War.
Edited by Sir John Hamilton
The War Illustrated.
Edited by Sir John Hamilton
2194 Days Of War.
ISBN-10: 086136614X
For a complete list of
sources