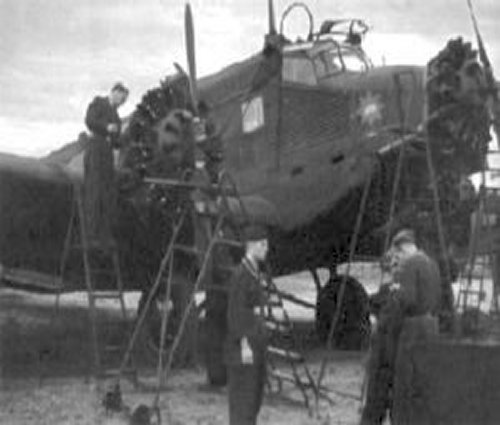 In Service:
13 October 1930 to 1945
First Flight:
13 October 1930
Manufacturer:
Junkers
Number built:
4,845
Type:
Transport
Crew:
3 men 18 passengers
Length:
18.9 m
Wingspan:
29.25 m
Wing area:
110.5 m²
Height:
4.5 m
Empty:
6,510 kg
Loaded:
10,500 kg
Engine:
3 ×
BMW 132A-3
9 cylinder single row supercharged air cooled radial engine producing up to 715 hp
Maximum speed:
270 km/h
Range:
1,280 km
Service ceiling:
5,500 m
Armament:
Bomb load up to
Electronics:
Operators:
Luftwaffe, Bulgaria, Croatia, Hungary, Portugal, Romania, Slovakia, Spain, Switzerland
Variants:
Ju 52 Ju 52/3m
Ju 52/3mce
Ju 52/3mge
Ju 52/3mg3e
Ju 52/3mg4e
Ju 52/3mg5e
Ju 52/3mg6e
Ju 52/3mg7e
Ju 52/3mg8e
Ju 52/3mg9e
Ju 52/3mg10e
Ju 52/3mg11e
Ju 52/3mg12e
Ju 52/3m12e
Ju 52/3mg13e
Ju 52/3mg14e
A.A.C. 1 Toucan
CASA 352
CASA 352L
C-79
T2B
Other:
Transports
Articles:
The Junkers Ju 52 Tante Ju (Auntie Ju) was a three seat three engines low wing cantilever monoplane with fixed undercarriage and tail skid all metal corrugated duralumin skin, powered in its original form by a single engine in the nose. The Ju 52 was fitted with Junkers doubled wing, a full span auxiliary flying surface hinged to the wing trailing edge, which provided the aircraft with both ailerons and flaps. Designed primarily as a transport aircraft, the Junkers Ju 52, entered service on the Berlin to London and Berlin to Rome routes in 1932 and eventually formed 85% of Deutsche Lufthansa airline's fleet. In 1934 a military version of the Ju 52 was produced for the Luftwaffe the aircraft was designed as a heavy bomber for a crew of four. Junkers Ju 52/3m is on display at the Royal Air Force Museum in Cosford.
This clip shows the Junkers Ju 52 Tante Ju (Auntie Ju) Transport coming under fire from an enemy aircraft, and being forced to land.
The Warplanes of the Third Reich.
ISBN-10: 0385057822
German Aircraft of the Second World War.
ISBN-10: 0370000242
Hitler's Luftwaffe.
ISBN-10: 051718771X
For a complete list of
sources