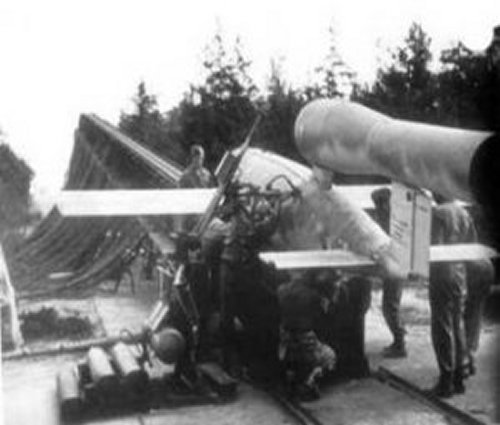 In Service:
13 June 1944 to 1945
First Flight:
Manufacturer:
Fieseler
Number built:
30,000 plus
Type:
Surface-to-Surface Missile
Guidance system:
gyrocompass based autopilot
Length:
7.9 m
Wingspan:
5.3 m
Diameter:
m
Weight:
2,180 kg
Engine:
1 ×
Argus As 109-014
pulse jet engine producing up to 300 kg of thrust
Maximum speed:
645 km/h
Range:
370 km
Warhead:
850 kg Amatol 39
Fuze:
Launch Platform:
Fixed, later
He 111
Operators:
Luftwaffe
Variants:
Fieseler Fi 103
Fieseler Fi 103R
Other:
Missiles
Articles:
German rocket draws gawkers on I-5
The Fieseler Fi 103 or more commonly known as the V-1 flying bomb was designed as a (Vergeltungswaffe 1) retaliation weapon by Germany during the Second World War. The V-1 was known by many names Buzz bomb, Doodlebug, Flying Bomb, Robot Bomb, Fieseler Fi 103.
The V-1 was developed at
Peenemünde
by the Luftwaffe during the World War II. The V-1 flying bomb was the first of Germany's vengeance weapons (Vergeltungswaffen) designed to wreak absolute terror and havoc on Great Britain, The Fieseler Fi 103 was fired from prefabricated launch sites along the French and Dutch coasts, the first V-1 flying bomb attack came on the 13th of June 1944 on London a week after D-Day, at its highest over 100 V-1 flying bombs were launched a day at southeast England more than 9,000 were launched against the United kingdom. As the Allied forces overran Europe, Germany lost its launching sites and the last V-1 was fired in October 1944.
Robert Lusser
of the
Fieseler
aircraft manufacturer and
Fritz Gosslau
from the
Argus
engine manufacturer designed the Fieseler Fi 103 under the codename Kirschkern, the construction of the fuselage was mainly welded sheet steel and the wings were built in the same manner but if resources were short then plywood, could and was often used.
The first complete V-1 airframe was delivered 30th of August 1942, and soon after the
Argus 109-014
was delivered. The first aerial tests started on the 28th of October 1942 with the first unpowered flight at
Peenemünde
, after being fitted beneath a
Fw 200
(Kondor). And on the 10th of December 1942 the first powered flight was undertaken, but this time the
He 111
was used to piggyback the Fieseler Fi 103.
This clip shows the Fieseler Fi 103, V-1 Flying bomb in-flight and exploding on the ground this is probably a test flight.
The Warplanes of the Third Reich.
ISBN-10: 0385057822
German Aircraft of the Second World War.
ISBN-10: 0370000242
Hitler's Luftwaffe.
ISBN-10: 051718771X
For a complete list of
sources