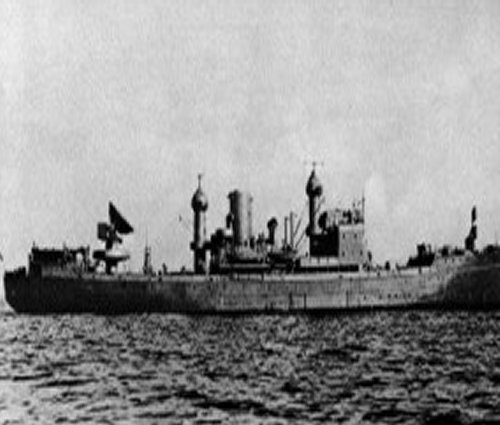 In Service:
December 1942 to August 1945
Ordered:
Builder:
Bremer Vulkan
, Bremen-Vegesack
Construction No:
Laid down:
Launched:
13 August 1938
Commissioned:
December 1942
Type:
Auxiliary cruiser
Class:
Hilfskreuzer (Raider), converted freighter
Displacement:
12,700 tons
Length:
134 m
Beam:
17.9 m
Draft:
7.9 m
Propulsion:
1 × shaft 1 × 8 cylinder diesel engine, producing up to 5,100 hp
Propellers:
1
Speed:
16 knots
Range:
3,600 nautical miles at 10 knots
Crew:
283 plus 74 radar personal from the
Luftwaffe
Armament:
3 × 105 mm, 4 × 2 × 3.7 cm, 5 × 4 × 20 mm,
2 × 20 mm, FuMG A1 Freya radar early warning radar
Wurzburg Riese gun laying radar
Armour
Aircraft:
3 but none put on board
Electronics:
Operators:
Kriegsmarine
Variants:
Other:
Auxiliary cruisers
Articles:
In late 1942 the Togo was modified into an auxiliary cruiser. As raider Coronel, she was recognised by the KM as HSK 10, and designated Schiff 14. To the Royal Navy she was identified as Raider K. From October 1943 the NJL Togo traversed the Baltic Sea operating under the authority of the Luftwaffe. In March 1944, after the three great Soviet bombing raids on Helsinki, she pulled into the Gulf of Finland to give night fighter cover for Tallinn and Helsinki. She made it through the war and was moved to Britain, but ended in Norway as MS Svalbard after a short trip to the US. She had a lengthy career as a merchant vessel, which ended suddenly as MS Topeka on 21 November 1984 when she ran aground in Mexico. Two men perished.
December 1942
The Coronel is commissioned.
August 1945
The Coronel is seized as a prize of war by the British.
21 November 1984
The Coronel ran aground off the coast of Mexico.
Ernst Ludwig Thienemann
Takes command on December 1942
Ends command on
German Warships, 1815-1945: Major Surface Vessels.
ISBN-10: 0851775330
German Warships, 1815-1945: U-boats and Mine Warfare Vessels.
ISBN-10: 155750301X
German warships of the Second World War.
ISBN-10: 0668040378
For a complete list of
sources