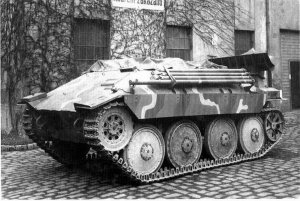 In the early stages of the war, the German army mainly used the
Sd.Kfz. 9
18 ton halftrack prime mover as its main recovery vehicle shortages of these vehicles and the increasing weight of German tanks, resulted in number tank chassis being modified so they were able to recover tanks which involved removing the turret and installing a large wooden box where the turret would have been and equipped with, winches, towbars, couplings, some variants had cranes fitted, and a variety of recovery gear they were called Bergpanzer.
Gallery:
Sources:
German Military Vehicles.
ISBN-10: 087349783X
Armoured Fighting Vehicles of Germany World War II.
ISBN-10: 0214203077
Encyclopedia of German Tanks of World Two.
ISBN-10: 1854095188
For a complete list of
sources