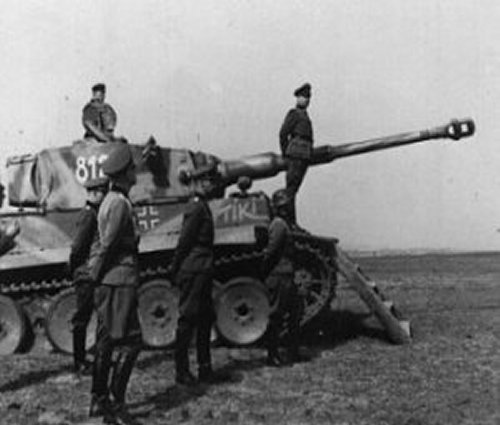 Development of what eventually became known as the Tiger Ausf. E was initiated in a discussion with Adolf Hitler on the 26th of May 1941. Medium and heavy tanks have been under development in Germany since 1937, no immediate plans were in hand to supersede or augment
Panzer III
and
Panzer IV
owing to the early campaign successes. But all this changed after the invasion of Russia and the Wehrmacht came up against the Russian T-34 and KV I tanks. Both of the Russian tanks, outclassed anything the Germans had either in the field or on the development and it was this which gave the impetus to implement Hitler's recommendations as quickly as possible.
Panzerkampfwagen Tiger II Ausf. B (Königstiger) design followed the same path as the Tiger I Ausf. E, but was intended to be even more formidable. The Königstiger combined the thick armour of the Tiger Ausf. E with the sloped armour of the Panther. The tank weighed almost 70 tons, and was protected by 100 mm to 180 mm of frontal armour, and was armed with the 8.8 cm KwK 43 L/71 gun and 2 × 7.92 mm MG 34 machine guns. The Pz.Kpfw. Tiger II Ausf. B served as a basis for one production variant, the Jagdtiger.

Gallery:
Sources:
German Military Vehicles.
ISBN-10: 087349783X
Armoured Fighting Vehicles of Germany World War II.
ISBN-10: 0214203077
Encyclopedia of German Tanks of World Two.
ISBN-10: 1854095188
For a complete list of
sources