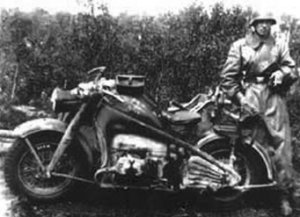 BMW started delivering motorbikes to the Reichwehr in 1932 in large numbers, probably the most famous BMW motorbike and sidecar combination was the BMW R 75, which shared many components with the Zündapp KS 750. Motorcycles were mainly used for reconnaissance and advance units
Gallery:
Sources:
German Military Vehicles.
ISBN-10: 087349783X
Armoured Fighting Vehicles of Germany World War II.
ISBN-10: 0214203077
Encyclopedia of German Tanks of World Two.
ISBN-10: 1854095188
For a complete list of
sources