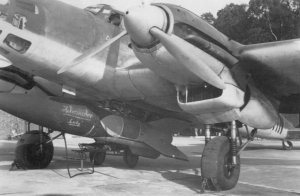 In Service:
First Flight:
Manufacturer:
Peenemünde
Number built:
Type:
Surface-to-Surface Missile
Guidance system:
Gyroscope
Length:
6.85 m
Wingspan:
m
Diameter:
0.67 m
Weight:
900 kg
Engine:
1 × liquid fuel rocket engine producing up to 1,500 kg of thrust
Maximum speed:
km/h
Range:
km
Warhead:
Fuze:
Launch Platform:
Mobile
Operators:
Heer
Variants:
A-1
A-2
A-3
A-4
A-4 SLBM
A-4b / A-9
A-5
A-6
A-7
A-8
A-9 / A-10
Other:
Missiles
Articles:
The Aggregate 5 (A-5) which was a ballistic missile, That was the forerunner for the
Aggregate 4
(A-4) which was designed and developed by Dr.-Ing.
Wernher von Braun
in 1938 under the leadership of Dr.
Walter Robert Dornberger
, at
Greifswalder Oie
,
Peenemünde
.
The Aggregate 5 (A-5) ballistic missile was 6.85 m long by 0.67 m in diameter and had a takeoff weight 900 kg. The A-5 also incorporated the new Siemens control equipment to control the missile during flight, the missile also had a parachute installed to facilitate recovery. The rocket engine used in the
Aggregate 1
(A-1),
Aggregate 2
(A-2) and
Aggregate 3
(A-3) was also used in the Aggregate 5 (A-5) with some minor modifications, which was a pressure fed system using 25% liquid oxygen and 75% ethanol, to give a maximum thrust of 1,500 kg for 45 seconds of burn time, which was designed by
Arthur Rudolph
. There was also another variant of engine used to power the Aggregate (A-5) which used monopropellants that was mainly used for air testing with the
He 111
.
The control of the Aggregate 5 (A-5) was achieved by the gyroscopes, that basically act as an autopilot, and if necessary sending signals to the servos that were attached to the exhaust vanes, that would allow the missile to be returned the desired trajectory, the same applied if the missile was affected by gusts of wind. The autopilot would engage and change the trajectory.
After extensive wind tunnel tests conducted by Dr.
Rudolph Hermann
the missile was aerodynamically refined. And several flight tests were carried out using the
He 111
as a carrier aircraft for the Aggregate 5 (A-5) in which the missile managed to exceed the speed of sound.
In 1938 Dr.-Ing.
Wernher von Braun
was ready to begin test launching of the Aggregate 5 (A-5) all the tests carried out attained astounding results for new Siemens control equipment functioned perfectly. Even the parachute opened when they should, and so all the groundwork had been done for the
Aggregate 4
(A-4).
The Warplanes of the Third Reich.
ISBN-10: 0385057822
German Aircraft of the Second World War.
ISBN-10: 0370000242
Hitler's Luftwaffe.
ISBN-10: 051718771X
For a complete list of
sources