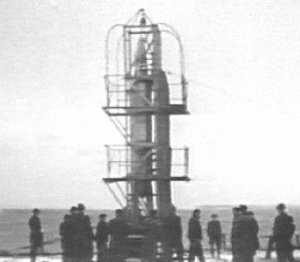 In Service:
First Flight:
Manufacturer:
Wernher von Braun
, Kummersdorf
Number built:
Type:
Surface-to-Surface Missile
Guidance system:
Gyroscope
Length:
6.74 m
Wingspan:
m
Diameter:
0.68 m
Weight:
748 kg
Engine:
1 × liquid fuel rocket engine producing up to 1,500 kg of thrust
Maximum speed:
km/h
Range:
12.1 km
Warhead:
Fuze:
Launch Platform:
Mobile
Operators:
Heer
Variants:
A-1
A-2
A-3
A-4
A-4 SLBM
A-4b / A-9
A-5
A-6
A-7
A-8
A-9 / A-10
Other:
Missiles
Articles:
The Aggregate 3 (A-3) was the third in a series of ballistic missiles designed and developed by Dr.-Ing.
Wernher von Braun
in 1937 under the leadership of Dr.
Walter Robert Dornberger
, at Kummersdorf south of Berlin.
The Aggregate 3 (A-3) ballistic missile was 6.74 m long by 0.68 m in diameter and had a takeoff weight 748 kg. The A-3 also incorporated a three gyroscope system to control the missile during flight, the missile also had a parachute installed to facilitate recovery. The rocket engine used in the
Aggregate 1
(A-1) and
Aggregate 2
(A-2) was also used in the Aggregate 3 (A-3) with some minor modifications, which was a pressure fed system using 25% liquid oxygen and 75% ethanol, to give a maximum thrust of 1,500 kg for 45 seconds of burn time, which was designed by
Arthur Rudolph
.
There were numerous tests flights of the Aggregate 3 (A-3) many ending in failures however the first launching took place on 4 December 1937, another launch took place on 11 December 1937. The testing of the Aggregate 3 (A-3) took place at Kummersdorf under the watchful eye of
Werner von Fritsch
, and at
Greifswalder Oie
,
Peenemünde
. Development of the Aggregate 3 (A-3) was abandoned in favour of the
Aggregate 5
(A-5) which was a scaled-down version of the
Aggregate 4
(A-4).
The Warplanes of the Third Reich.
ISBN-10: 0385057822
German Aircraft of the Second World War.
ISBN-10: 0370000242
Hitler's Luftwaffe.
ISBN-10: 051718771X
For a complete list of
sources